Bank of Baroda was founded in the city of Baroda (now Vadodara), Gujarat, Western India in 1908. It has been a long and eventful journey of more than a century, Bank of Baroda in India The parent Bank has International presence in 94 overseas offices spanning 17 countries. .See more from the Bank of Baroda website
The Bank of Baroda (Guyana) Inc. was one of the earliest overseas branches of the Bank of Baroda. It was established in Georgetown, Guyana on March 31, 1966, less than a year after the formation of the Bank of Guyana, and prior to Guyana's independence. In 1999 the overseas branch in Guyana was converted to a wholly owned subsidiary of the Bank of Baroda. In 2012 the bank established a branch in Mon Repos on the East Coast of Demerara. It now has two branches in Guyana.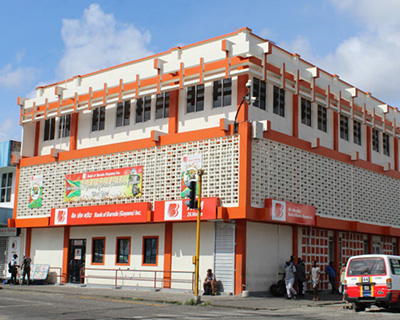 Redressal of Complaints/SPGRS
In case any of our customers is having any complaint about Banking Services of Bank of Baroda, s/he is requested to approach concern Branch Manager to resolve the matter at first place.
If any customer is not satisfied with reply the customer is requested to lodge complaint online using given below URL:-
https://appstack.bankofbaroda.co.in/OnlineComplaintsINT/Main.aspx?TerrOfc=GUYAN