Flexible and steady, wins the race

---
Start investing in an RD account with BoB
Recurring Deposits (RD Accounts)
A basic savings plan, which helps customers to regulate their savings and reap its benefits from time to time. Most suitable and ideal for Service Class, Monthly Wage Earners, Small Business Persons, Housewife etc. Ideal for future planning, needs and expenses of the customers.
Regularizes savings by encouraging a saving habit.
Automatic recovery of Installments from SB/ Checking Account of the customer with our Bank without any additional service charges.
Pre-mature withdrawal of Deposit allowed.
Loan/ Overdraft (LABOD/ ODBOD) facility allowed
For Individuals (Joint Accounts also) only. No legal person/ entity eligible for opening RD accounts.
---
Quantum of Deposit:
Minimum Installment – GYD 1,000/-
Maximum Installment – GYD 100,000/-
Above GYD 1,000 installment will be accepted in multiple of GYD 500/=
Fixed installment during the tenure of deposit, no variance allowed.
---
Deposit Tenure:
Minimum – 12 months.
Maximum – 60 months.
---
Rate of Interest (Subject to time to time revision).
12 months and up to 36 months – 3.50% p.a.
Above 36 months and up to 60 months – 3.75% p.a.
Interest will be compounded quarterly and paid on maturity.
Interest payments are subject to Withholding Tax (Tax Deducted at Source).
No interest is payable on pre-mature withdrawal before 12 months. On pre-matured withdrawal of recurring deposit amount after 12 months, interest will be calculated at the rate of interest applicable (at the time of opening of RD account) on one year Fixed Deposit scheme of our Bank, for the period of recurring deposit kept with us.
---
Loan/ Overdraft (LABOD/ ODBOD) facility allowed:
Up to 75% of the deposit amount i.e. total installment deposited till date of application for loan.
The Bank at its discretion may close/ reduce the limit of the LABOD/ ODBOD account if the outstanding balance in such account exceed the balance in RD account at any point of time.
The LABOD/ ODBOD account to be closed from the maturity proceeds of RD account, if not closed before maturity date of RD account.
All other terms and conditions of LABOD/ ODBOD accounts will be applicable.
---
Documents required for opening of account:
Must maintain a fully KYC complied Saving Bank/ Checking (Individual) Accounts with us.
Rules and regulations governing Term Deposit are applicable on Recurring Deposit Scheme.
For more information on Recurring Deposit Scheme, please contact our nearest Bank of Baroda (Guyana) Inc. Branch.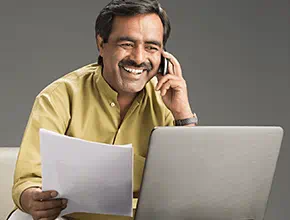 Request Callback
Please fill in these details, so we can call you back and assist you.